After
getting the prefolds ready yesterday
, I decided to get the pocket diapers and inserts done today. Mr. Pate and the other Mr. Pate (Dustin) put up my clothesline for me! Yay!
Pocket diapers
do not need much prepping. It is good to wash them for cleanliness and to fluff up the fibers though. So I unwrapped and unsnapped all of my diapers, pulled all the inserts out and folded any Velcro into the laundry tabs (I don't have very many Velcro).
Once I had it all in the basket i realized it was a lot! Anyhow, I put them in the washer and did a cold cycle with 2 tbsp rockin green. Then I added one extra rinse cycle at the end. Once they were done, I put all the inserts into the dryer on medium heat. And Mr. Pate and I hung up all the shells outside: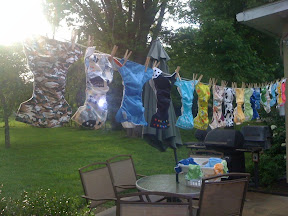 How cute! Ha! So now I am about to stuff them and put them away until Griffin is around 10 lbs or more, so he can fit them well. Yay for cloth diapers! And yay for being ready... We have very little still on our to do list and I am very pumped about that!
- Mrs.Pate via my iPhone