Thought I meant a baby? Ha! Not quite yet : )
I am referring to a new addition to our nursery. Can you tell what it is?
A side table and lamp! I wanted a table next to the chair so when I am nursing I have somewhere to put stuff. I told Mr. Pate I just wanted to get a used one at a thrift store and paint it. Cheap and easy right?
Not quite. We got the table cheap, but Mr. Pate had to sand it down a ton to get it to take paint. And in the end it still didn't take it well, but it turned out to give it a distressed look that I love! We decided in white legs and an orange top for some color fun. I love it! Thanks for the hard work honey! You are the best babydaddy ever!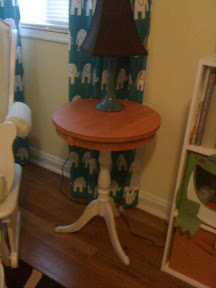 - Mrs.Pate via my iPhone