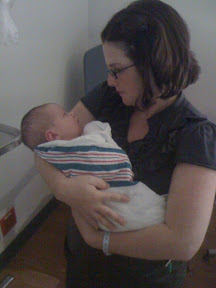 My son is a week old tonight! Are you kidding me? Last Monday at 8:21pm, Griffin was pulled out of my belly and entered into this world. His cry sounded like quacking! It still does sometimes and I love it.
The last week has been such a blur, with joy and heartache abounding. But I feel so blessed to have a healthy 8 lb 8.4 oz boy to hold and kiss, even if I don't get to bring him home just yet. I thought at this point I would be taking cute pics of him next to a stuffed animal to see how he grows. I thought his newborn pics would be this next week. But life so doesn't play out how you picture it, and I have no grounds for complaint. I am a blessed mom and wife, and I am trying hard to continually remember this.
Griffin is doing awesome. No news is good news, and he is just chillin. He is usually super alert in the mornings when we go see him, making the cutest faces ever. And at night he is completely knocked out after he eats no matter how hard you try to wake him.
He is nursing really well and I am so glad! We are still only nursing at 8am, 2pm and 8pm. Then he is bottle fed the rest of his feedings. Mr.Pate figured out that I needed to adjust my pumping schedule now that I have milk, and it is going to make things easier! So thankful for that man. I had been pumping every three hours, and not figuring the nursing into that at all. So it was getting to be a lot. Now I will be pumping or nursing every three hours, which will be a tad less than now and give me a break- woo hoo!
My mom and sister came up yesterday, and Mr.Pate's dad is here for the week. Those visits have helped the time to pass much better! It's still dragging by, but a little faster.
Griffin will prob get out on August 2nd, not the 1st like we first said. His last dose of meds will be 14 days after he was born- which was at night on Monday. So we just weren't calculating right.
Now for some pics: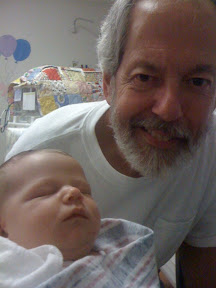 He met his Papaw for the first time!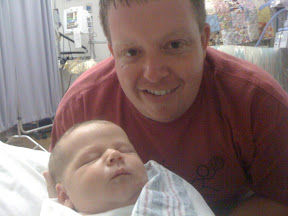 Uncle Dustin came back to visit!
Crazy KneKne got to come see him for the first time too! I love this pic! Ha!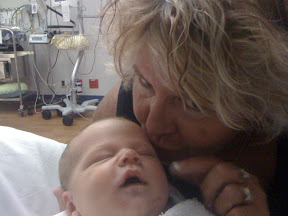 - Mrs.Pate via my iPhone