It's no secret I wish I could be a stay-at-home mom instead of working outside the home, but since thats just where we are I am trying to suck it up and love my blessed life as is. I really am blessed beyond belief.
So one neat thing about my child being in day care? They make cute little crafts with him that I can have as little memories!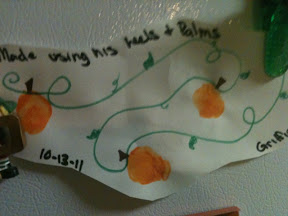 His Halloween pumpkin patch, made with his palms and heels.
His Turkey, made with his handprint. Miss Danielle said as soon as she put the paint on his hand he balled his fist up and wouldn't open it! Ha!
And his ornament I got today! I can't wait to have a tree full of his homemade ornaments! (well I can bc I want him to quit growing so fast!!!)
I am thankful that my daycare makes these cute things with him!
I love this little guys creations!
- Mrs.Pate via my iPhone