Yesterday Griffin and I made a little trip down to TN for the day. I had a thyroid dr visit (which went great- I don't have to go back for 6 months!! Woohoo) in Hendersonville, so afterwards we visited our Nanny Martha.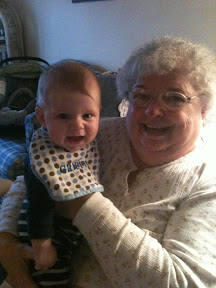 Griff did great and gave her several cute smiles.
Then we headed to meet Kristen, one of my very best friends. She lives in Arizona, so she hadn't gotten to meet the little guy yet.
Our visit was short, but very good. Yay for Thanksgiving Break!
- Mrs.Pate via my iPhone