• I have been meaning to finish a post about Griffin being 2 months old all week...
• Work is crazy bc Beckys in fancy smanchy Europe. Whew!
• My dad is coming up all week to stay with Griffin. Looks like he is having a good time to me: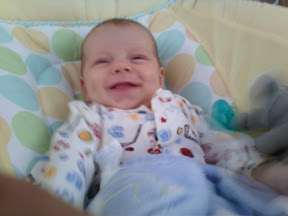 • Last night at church, however, he was not a smiles! Let's just say we had an off night.
• Encores and More consignment sale tomorrow night with my Sis. Woo hoo! This boy needs fall and winter clothing!
• On that note, it is sad the amount of clothing Griffin has in his closet that hr will not get to wear due to sizes and seasons. There are some really cute outfits that are totally for Summer that I am pretty sure he will be too big for by next summer, but he is too small for now. Sad times.
• I am digging fall weather. I love the change of seasons, it always refreshes people. Everyone seems happier when the season changes.
• Time to work! Happy Thursday people!
- Mrs.Pate via my iPhone